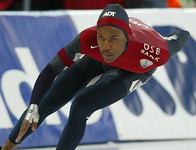 by Robert H. Kelly

Shani Davis won the 1000 meter event in speed skating at the 2006 Winter Olympic in Turin, Italy.

AOL has a poll on its web site to select the biggest star for the USA up to this point at the Olympics.

Davis is winning with fifty-three percent of the vote.

Does anyone recall that this guy ditched his teammates earlier in the week by "choosing" not to participate in the team pursuit event? That decision perhaps cost the USA a medal.

Davis was quoted in saying,

"A lot of these people haven't even skated as long as me..... I'll be pretty upset if people got upset about my decisions and what I feel is best for me because all in all, I know what's best for me. ... I worked to get here. None of my teammates helped me get to where I am."

Davis and his mother have had an acrimonious relationship with US Speedskating and a sometimes tenuous rapport with his teammates.

USA gold medalist Chad Hedrick was quoted prior to the team pursuit race,

"We'd have a really, really good chance if Shani skated…but I'm not going to beg Shani to skate the pursuit with me."

This is just another case of an athlete placing himself above his team and teammates.

How can we celebrate an athlete for his performance when he acts like that?

He won a gold medal at the Olympics, but his attitude and commitment to his country and his teammates speak volumes about him.

Those volumes add to the negativity of him and lessen his achievement.

Will the athletes of the 21st century even learn? Learn that the team is more important that the individual.

Count me as one who will not celebrate this athlete's performance. I am sure there are many more who feel the same.